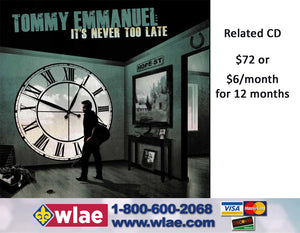 Tommy Emmanuel: A Music Gone Public Special -
Related CD: Never Too Late
$72 one-time or $6/month for 12 months
CD Tracklist:

1. Only Elliot
2. It's Never Too Late
3. The Bug
4. El Vaquero
5. Hope Street
6. Blood Brother
7. Miyazaki's Dream


8. One Day
9. Traveling Clothes
10. T. E. Ranch
11. Hellos & Goodbyes
12. One Mint Julep
13. The Duke
Please note:

Online Shop orders require full payment; to arrange for 2-12 monthly payments, please call our pledge line at 1-800-600-2068 to order. Someone will call you back as soon as possible.
Thanks for supporting WLAE-TV!