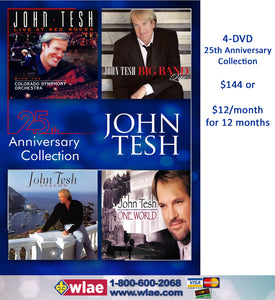 John Tesh: Songs and Stories from the Grand Piano 4-DVD 25th Anniversary Collection
$144 one-time or $12/month for 12 months
In JOHN TESH: SONGS AND STORIES FROM THE GRAND PIANO, the pop music composer, pianist, and Emmy Award-winning radio and TV host looks back on his life and career through music, pictures and humorous reminiscences. The concert special blends together heartfelt songs, performances by John's daughter Prima and son Gib, and his inspiring meditation on persistence, grit, purpose and the importance of family.
DVD 1: Live at Red Rocks
1. Day One
2. Garden City
3. Key Of Love
4. Barcelona
5. April Song
6. Shock
7. Fields Of Gold
8. A Thousand Summers
9. Against All Odds
10. Bastille Day
11. On American Shores
12. Concetta
13. In A Child's Eyes
14. Group Five
15. Road Made For Animals
16. PS491

DVD 2: Avalon
1. L'Aquila
2. Polar Express
3. Spanish Steps
4. Venezia
5. The Inn On Mt. Ada
6. San Panfilo
7. Avalon
8. Halcyon Days
9. Seven Fourty Seven
10. Destiny
11. The View From Here
12. Avalon Shores

DVD 3: One World
1. Sonata Di Roma
2. Canta Domine
3. Emerald Bay
4. Valley of Dreams
5. Flamenco Legato
6. Who Am I?
7. Heart of the Sunrise
8. Gloriette
9. Piano in G Majo
10 St. Agnes' Treasure
11. Forever More (I'll be the One) fet. James Ingram
12. Siberian Allegretto
13. One World

DVD 4: Big Band Live
1. I've Got The World On A String
2. Sway (Mucho Mambo)
3. Beyond The Sea
4. L-O-V-E
5. The Way You Look Tonight
6. Give Me Forever (I Do)
7. Spanish Steps
8. Blue Skies
9. Summer Wind
10.Bastille Day
11.In The Mood
12.It Had Better Be Tonight
13.Barcelona (bonus track)
14.Roundball Rock (NBC Basketball Theme)
Please note:

Online Shop orders require full payment; to arrange for 2-12 monthly payments, please call our pledge line at 1-800-600-2068 to order. Someone will call you back as soon as possible.
Thanks for supporting WLAE-TV!