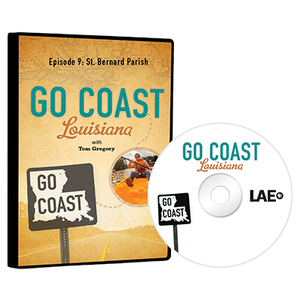 If you would like more than 4 episodes of Go Coast Louisiana, please call for bulk sale price. 504-830-3717
In this episode of Go Coast: Louisiana, Emmy Award winning host Tom Gregory explores the cultural treasures, the scenic beauty and the bountiful world-class fishing of  New Orleans' most historic neighbor—St. Bernard Parish.
From the last vestiges of Spanish Colonial Louisiana at Los Islenos Festival to the Chalmette Battlefield, the site of the Battle of New Orleans, to the frontline of the battle against hurricanes and coastal erosion, the past becomes present for visitors of St. Bernard. With the help of national food writer and Nola Food Goddess, Lorin Gaudin, Tom also eats his way across St. Bernard and discovers the unique flavors of this native, coastal cuisine.
Discover why St. Bernard is "Da Parish" when Go Coast: Louisiana goes down river!