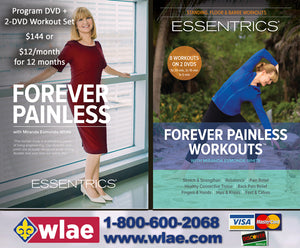 Forever Painless with Miranda Esmonde-White - Program DVD +
Forever Painless Workout Series 2 DVD-Set
(8 workouts: 5 x 30-mins, 2 x 15 mins and 1 x 5 min.)
Stretch & Strength, Rebalance, Pain Relief, Healthy Connective Tissue, Back Pain Relief, Fingers and Hands, Hips and Knees, Feet and Calves
Please note:

Online Shop orders require full payment; to arrange for 2-12 monthly payments, please call our pledge line at 1-800-600-2068 to order. Someone will call you back as soon as possible.
Thanks for supporting WLAE-TV!