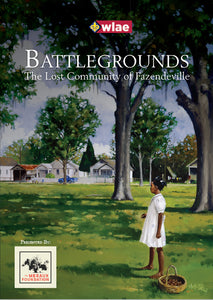 For your donation of $19.99, we will send the DVD as a thank-you gift.

The film is now also available on our YouTube channel, @WLAETV.
*************
Presented by the Meraux Foundation, the hour-long, powerful documentary features never-before-seen photos of Fazendeville, an idyllic, closely-knit St. Bernard Parish neighborhood of Black families who were forced to leave their homes in the 1960s. The federal government paid the residents just pennies on the dollar for their property so that the land could be used for an expansion of the Chalmette National Battlefield site.

This moving and emotionally charged documentary tells the story of a self-sustaining community that was established in 1867 for recently emancipated slaves by Jean Pierre Fazende, a free man of color. "The Village" thrived for 100 years before being dismantled and bulldozed, leaving scores of displaced Black residents with no choice and no voice as they scattered to other areas of New Orleans.
"All that remains of this century-old neighborhood are very emotionally raw memories of the village's displaced residents and some extraordinary pictures and historical documents of Fazendeville that were obtained by WLAE-TV," said Jim Dotson, Vice President of LAE Productions and WLAE-TV – New Orleans Public Television, which produced the groundbreaking Battlegrounds: The Lost Community of Fazendeville documentary film.
The entire one-hour documentary, which began production in 2015, is narrated by former residents of Fazendeville and their descendants, and by historians and park service officials who explain the decisions of their predecessors from generations ago. Fazendeville enabled formerly enslaved Blacks to experience true freedom through their first opportunity to own land, and the village expanded to 33 homes, a church, general stores, recreation facilities, meeting halls and bars. Doomed by its location in the middle of the battle site of the 1815 Battle of New Orleans, Fazendeville was an obstacle in the way of the National Park Service's proposed expansion of the battlefield park for its 150th anniversary. In 1963, President John Kennedy signed an order allowing for the park service to seize the property which was bulldozed in 1966.
"Erased from the landscape that generations of families called home, even the memory of the village faded away – until now, with this revealing one-hour documentary that tells the heartbreaking story that has gone untold for decades," said Woody Keim, the documentary's Executive Producer and great-great-grandson of the Village's founder, Pierre Fazende.