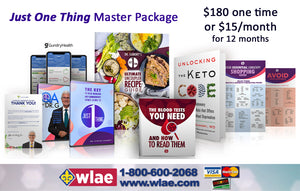 Just One Thing with Steven Gundry, MD - Master Package

Program DVD: 
Dr. Gundry starts off the program with the best news of all: Aging is not linked, scientifically, with joint pain, memory loss, frailty and a host of other negative stereotypes of getting older. Based on researching the world's longest living people, he explains why aging doesn't have to equate to decline and loss of freedom. Dr. Gundry then reveals the 'just one thing' that leads to living well until a ripe old age. The program ends with a step-by-step approach to help us feel better and more youthful today while offering revolutionary, yet simple, methods to losing weight, reducing our need for medications and increasing our healthspan. (60 minutes)
Unlocking the Keto Code Hardcover Book
Based on Dr. Gundry's latest scientific research, Unlocking the Keto Code goes into easy-to-understand detail explaining the 'just one thing' cellular mechanism linked to living long and aging well. With food lists, hacks, and all-new recipes, Unlocking the Keto Code outlines a step-by-step, simple plan to restore health.
LIVE Q&A with Dr. Gundry DVD
Dr. G answers pressing questions from the audience after they've watched the Just One Thing special, including cooking tips to remove plant toxins from your favorite foods, best supplements for boosting immune health and more.
Dr. Gundry's Bloodwork Guide: The Blood Tests You Need & How to Interpret Them
Offering key insights to puzzling health dilemmas, getting regular blood tests are one of the most accurate ways to understand what's really going on inside your body. But, you must know which blood tests are right for you and, more importantly, how to accurately interpret them. Until now, only Dr Gundry's patients have access to this knowledge. Utilizing Dr. Gundry's 25 years of interpreting patients' bloodwork to help them support their body's natural ability to restore good health, this information-packed, pocket-sized guide has never before been available to the public,
Uncoupling Cookbook
Cook your way to a long, vital life! Simple and delicious longevity-promoting recipes with mouth-watering color photography of each dish, the Uncoupling Cookbook features 10 exclusive recipes (these recipes are not found in any of Dr. Gundry's books). Plus, the cookbook includes Dr Gundry's food pyramid and resource page of where to source ingredients to save you time and money. Sample recipes include: Goat Cheese and Almond Johnny Cakes (breakfast), Artichoke tapenade with vegetable chips, Turmeric Cod with Asparagus-Broccoli Curry Soup and MCT Chestnut Crepes with Chocolate-Pistachio Creme.


YES / NO Shopping Guide
A handy tri-fold pocket guide to take with you to the grocery store reminding you of the "Yes Please" foods that uncouple mitochondria and promote longevity and "No Thank You" foods that contribute to a myriad of inflammatory health issues.


Gundry MD Coupon 
Coupon code for 30% OFF your first order on all supplements and foods at GundryMD.com.
Dr. Gundry's Telamedicine App, Special Offer
There's a year-long waiting list to see Dr Gundry. But with the Gundry Health teladoc program, you can 'see' Dr Gundry—and benefit from his 25 years of successfully remeding patients' health challenges—instantly and remotely. Coupon code is for 30% off an annual membership.
**************
Please note:
Online Shop orders require full payment; to arrange for 2-12 monthly payments, please call our pledge line at 1-800-600-2068 to order. Someone will call you back as soon as possible.
Thanks for supporting WLAE-TV!