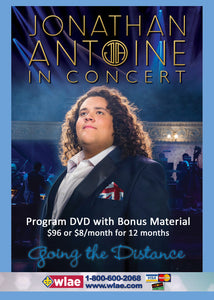 Jonathan Antoine in Concert: Going the Distance -
Program DVD with bonus material

Jonathan Antoine became a global sensation at the age of just 17 and earned two No. 1 albums on the U.K. classical charts by the age of 20. Compared to the legendary operatic tenor Luciano Pavarotti after his astounding audition on Britain's Got Talent in 2012, the shy teenager's life changed overnight. Music mogul Simon Cowell proclaimed him a future star and he wasn't wrong.

JONATHAN ANTOINE IN CONCERT: GOING THE DISTANCE recounts Jonathan's journey from a shy 17-year-old to a virtuosic tenor. Jonathan is joined onstage by an orchestra, choir, a cappella group, and acclaimed cellist Tina Guo for a medley of Disney classics, Broadway numbers and opera standards.
DVD Track list:
ACT 1 (Beginning)
I Can Go The Distance
Can You Feel The Love Tonight
Baby Mine
Make A Man Out Of You (Jonathan featuring D' Cappella)
I See The Light (D' Cappella)
Compass
ACT 2 (The Popular)
Summertime
Empty Chairs At Empty Tables (Jonathan featuring Tina Guo)
Sakura (Tina Guo)
Moon River
Unchained Melody
Country Roads
ACT 3 (The Arias)
Parla Pui Piano
Amor Ti Vieta
Caruso
Nessun Dorma
I Can Go The Distance Reprise
The Program DVD includes the following bonus material:

Bonus (Behind The Scenes)
Recording Sessions from London and Los Angeles
Rehearsal and Toronto Concerts
Interviews with Jonathan and Producers
Please note:
Online Shop orders require full payment; to arrange for 2-12 monthly payments, please call our pledge line at 1-800-600-2068 to order. Someone will call you back as soon as possible.
Thanks for supporting WLAE-TV!
---