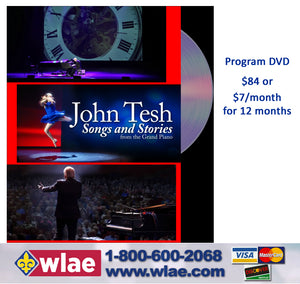 John Tesh: Songs and Stories from the Grand Piano Program DVD
$84 one-time or $7/month for 12 months
In JOHN TESH: SONGS AND STORIES FROM THE GRAND PIANO, the pop music composer, pianist, and Emmy Award-winning radio and TV host looks back on his life and career through music, pictures and humorous reminiscences. The concert special blends together heartfelt songs, performances by John's daughter Prima and son Gib, and his inspiring meditation on persistence, grit, purpose and the importance of family.
Includes:

Spanish Steps
Garden City
Roundball Rock
Heart of the Sunrise
Hallelujah
Barcelona
Bastille Day
Goodnight Moon

Please note:

Online Shop orders require full payment; to arrange for 2-12 monthly payments, please call our pledge line at 1-800-600-2068 to order. Someone will call you back as soon as possible.
Thanks for supporting WLAE-TV!