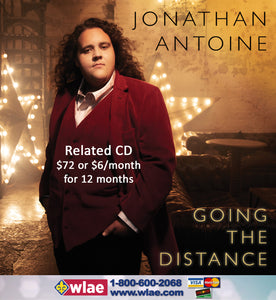 Jonathan Antoine: Going the Distance - CD

Jonathan Antoine became a global sensation at the age of just 17 and earned two No. 1 albums on the U.K. classical charts by the age of 20. Compared to the legendary operatic tenor Luciano Pavarotti after his astounding audition on Britain's Got Talent in 2012, the shy teenager's life changed overnight. Music mogul Simon Cowell proclaimed him a future star and he wasn't wrong.

With his new album, Going The Distance, Jonathan has really found his voice. Eight years after his debut, he's also now free to follow his own vision. Going the Distance realizes a childhood idea to structure an album in three acts, like a musical, which tell the story of overcoming adversity to fulfil your dreams. Featuring new repertoire and working with the Royal Philharmonic Orchestra, Going The Distance is an incredibly personal new album – a recording to cement his position as one of the world's best tenors.

CD Track list:
1. I Can Go The Distance
2. Can You Feel The Love Tonight
3. Baby Mine
4. Compass (I Will Lead You Home)
5. Moon River
6. Summertime
7. Unchained Melody
8. Country Roads
9. Empty Chairs at Empty Tables
10. Caruso
11. Amor Ti Vieta
12. Nessun Dorma
Please note:

Online Shop orders require full payment; to arrange for 2-12 monthly payments, please call our pledge line at 1-800-600-2068 to order. Someone will call you back as soon as possible.
Thanks for supporting WLAE-TV!