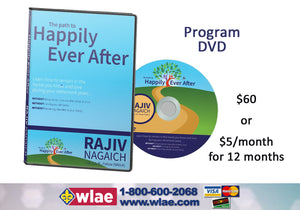 The Path to Happily Ever After with Rajiv Nagaich - Program DVD
What does it take to live "happily ever after" during your retirement years? That's the question elder law attorney and retirement planning expert Rajiv Nagaich answers in The Path to Happily Ever After.

The Program DVD is a great a way to watch (and rewatch) Rajiv's shocking revelations and piercing insights about the state of retirement planning in America. Drawing on his own family's experience and that of thousands of clients during his 20+ years as an elder law attorney, Rajiv explains why traditional approaches to planning for housing during the retirement years fall short and shows how this failure results in 70% of American retirees being forced into institutional care. Rajiv offers a surprisingly simple solution to create a plan for housing that is seamlessly integrated with your plans for health, financial, legal, and family issues as you grow older. Rajiv shows you exactly what to do to achieve your most deeply held goals: living in the home of your choice (even if your health fails), without going broke, and without burdening your family. Rajiv has helped thousands of people find their path to happily ever after, and he can help you, too.
Please note:
Online Shop orders require full payment; to arrange for 2-12 monthly payments, please call our pledge line at 1-800-600-2068 to order. Someone will call you back as soon as possible.
Thanks for supporting WLAE-TV!